China's travel agencies diversify to survive coronavirus pandemic, from selling local delicacies to live-streaming culture talks
Many of China's travel companies are staying afloat thanks to inventive new revenue streams – one has sold 10 tonnes of frozen local meatballs
Meanwhile, firms are offering huge discounts – the 'lowest in a decade' – on packages for individual travel, which is now permitted again
As at countless companies across China, business at Bespoke Travel in Beijing ground to a halt at the end of January when the country's travel industry was put on standstill due to the coronavirus outbreak.
Facing severe cash flow problems, the travel agent, which arranges tailor-made tours for foreigners visiting China, launched a series of online talks on Chinese culture and history in an effort to generate a new revenue stream.
The talks are delivered by old China hands – foreigners who have lived in China or studied its culture for decades – and delve into historic spots in the country.The first talk, "Sojourning in Peking", was held on April 14 via videoconferencing app Zoom. Delivered by Paul French, author of Midnight in Peking – the true story of the murder of a young British woman in Beijing in 1937 – and Beijing-based writer and history teacher Jeremiah Jenne, it introduced some of the favourite haunts of foreigners who made Beijing their homes in the 1930s.
Another talk on April 21 – "Shanghai, Sassoon and the Cathay" – told of how Jewish businessman Sir Victor Sassoon changed the face of Shanghai by building the Cathay Hotel in 1929 (where The Peace Hotel on The Bund is today).
Sam Braybon, director of Bespoke Travel, says he hopes such talks will pique foreigners' interest in China even though visiting is extremely difficult right now (since mid-March, international travellers landing at airports throughout China are required to undergo quarantine for 14 days at their own expense).
"We cannot run in-person tours at the moment, which is bad for both our company morale and cash flow," Braybon says. "The talks, which cover history, culture as well as activity classes like tai chi and hand-pulled noodles, have been a great way to reconnect with clients and earn some money. It's the first time for us to do such a project."
Chinese media reported that 10,000 travel agencies in the country had closed for good as of the end of March, with estimated tourism losses in China this year nearly 3 trillion yuan (US$420 billion). Severe losses at those that are managing to stay afloat have seen many also resort to inventive new measures.
Dongguan Youth International Travel Service, with 70 outlets in the southern city of Dongguan, has set up an e-commerce platform selling local items such as Chaozhou meatballs and Yunnan tea from vendors in areas the company would usually arrange for people to visit.
"As our clients can no longer travel to Guangdong [province] to sample the local delicacies in person, they can order from us and we send the items to them," Zhong Shuyi, the company's operations centre director, says. "We have also recruited some of our clients, as well as other vendors, as sales agents. We give them a commission if they bring in sales."
The company has since sold over 10 tonnes of Chaozhou meatballs, something that has helped offset its huge losses since the end of January, Zhong says.
"Over the past few months, we have been busy handling clients' deferral of prepaid trips that never took place. All our outlets have closed."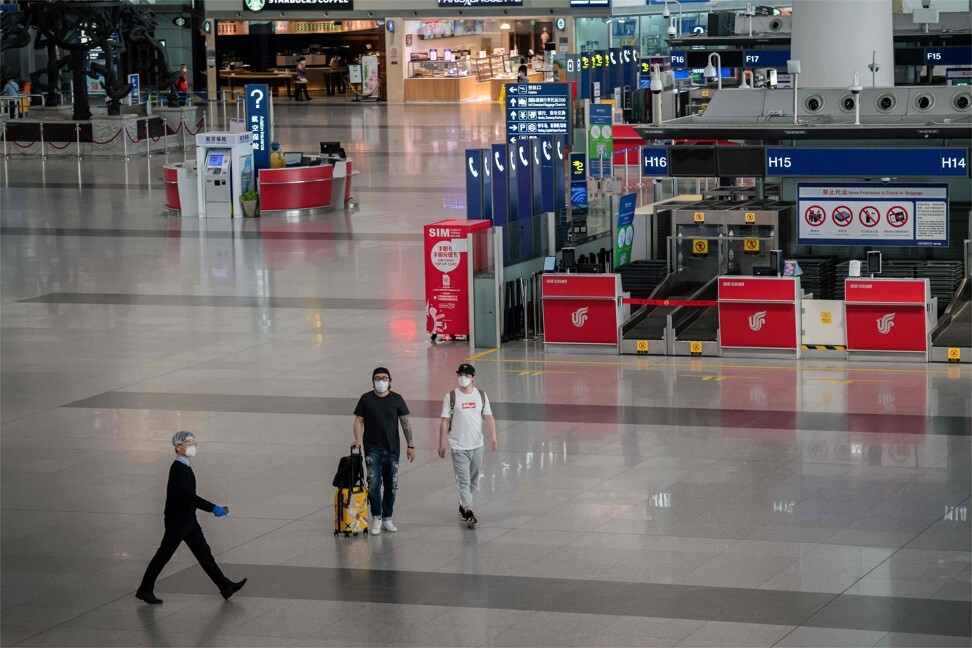 An almost empty Beijing Capital International Airport on April 13. Photo: AFP via Getty Images
With the virus outbreak having lessened in China, domestic tourists are travelling individually again. In response, Dongguan Youth International Travel Service has launched cut-price individual tour packages.
"The ban on group tours has yet to be lifted by the government, so we have rolled out deep-discount driving-tour packages with hotels," Zhong says. "The price is the lowest in a decade. The price of a three-night, five-star hotel package has dropped from 4,000 to 1,000 yuan and there are buy-one-get-one-free offers."
No German tour operator would dream of selling potatoes. [Such flexibility] will help some [Chinese] companies survive these troubled timesWolfgang Georg Arlt, founder and director, China Outbound Tourism Research Institute
Zhong adds that the company's travel agents who still cannot perform their usual jobs have started live-streaming from tourist destinations to boost interest.
"As plane travel is not advisable now, they drive to neighbouring places including Huizhou and the Guangdong-Hong Kong-Macau Greater Bay Area to take videos of hotels and scenic spots reopening to promote our brand," he says. "We've also boosted our internal training. A hundred of our agents have studied online and earned travel agent certificates issued by a range of foreign countries. One has got certificates from 47 different countries."
The qualifications enable tour guides to work in other countries, where they can bring in Chinese tourists and better explain the local culture to them.
"To get the qualification, they have to study foreign culture, like food, and pass exams," Zhong says.
Another operator, China International Travel Service (Taizhou), has set up an e-commerce platform to sell health products like masks and disinfectants, Chinese media reported. It also started offering coach services to help companies transport their employees back to Taizhou, a city in Zhejiang province, after lockdowns across the country were eased.
Professor Wolfgang Georg Arlt, founder and director of the China Outbound Tourism Research Institute in Germany, says mainland Chinese tourism and hospitality companies are showing a high level of flexibility, which is typical of Chinese culture.
"No German tour operator would dream of selling potatoes," he says. "[Such flexibility] will help some companies survive these troubled times. With the forced idleness, the time can be used to look at companies' offerings and products and see how they can be refined."
The institute has developed five online training courses for people around the world to learn more about the Chinese outbound tourism market, targeting companies that have a stake in the market. Created together with Hong Kong Polytechnic University's School of Hotel and Tourism Management, the courses cover hospitality, destinations, retail, attractions and transport."In the future, special-interest tourism will become more important in the Chinese market," Arlt says.